Sixthman Greatest Hits

Show us your favorite moments!
We're collecting moments. Moments YOU feel represent the best parts of your vacation. Help us compile our Greatest Hits album and win some sweet (BIG) prizes too!
Here's how it works:

Follow the calendar below! We'll highlight a different category each week for 8 weeks.

Post your favorite image, photo, or video that fits the category.

Tag #SXMgreatesthits
That's it. That's all you've got to do!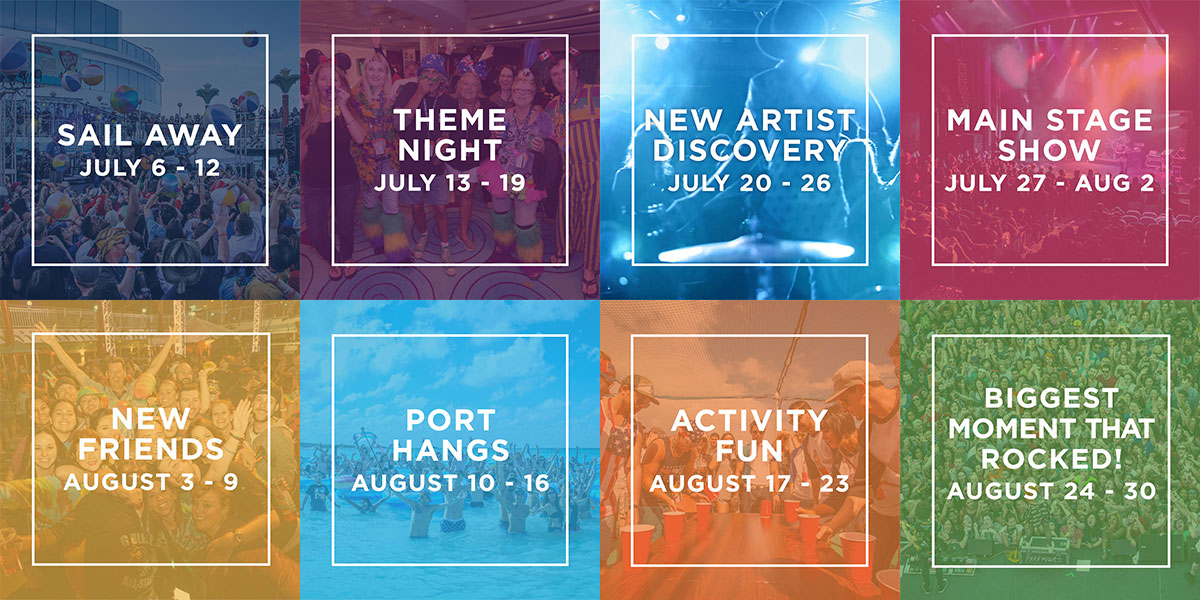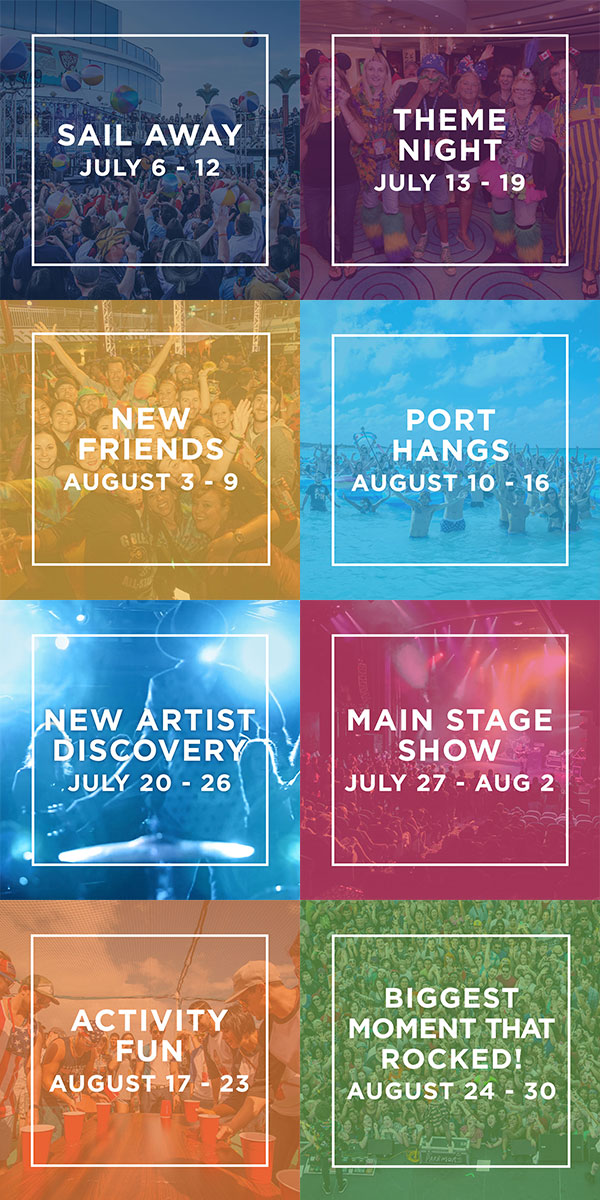 We'll randomly select one winner every week. If chosen, you'll receive a Sixthman t-shirt of your choice and your photo will be featured by Sixthman all over the Internet that week!
We'll also be giving away one GRAND PRIZE at the end of all this. Everyone who submits will be included in a drawing for a $1,000 Sixthman gift card! And the best part is the more moments you tag with #SXMgreatest hits, the more times you're entered to win. So get to tagging!
Read our official rules.
Now...what if we told you there's going to be a SUPER, GIGANTIC, REALLY REALLY EXCITING GRAND PRIZE after that? It's true. We can't reveal everything just yet so check back here soon for details about our Sixthman Day celebration on August 30th, the day we set sail on our very first Sixthman Festival on the high seas. Hmm…now that's something worth thinking about.

This username is valid!

This username is not valid!
Sixthman Day
Entries are closed for the Sixthman Day cabin giveaway. Tune in to Sixthman's Facebook LIVE, on Sixthman Day (August 30th, 2016) to find out who won.
A Note From Our Founder
When we began 15 years ago, we thought we were just saying thank you to Sister Hazel's loyal fans who had helped the band achieve their first Platinum Album and let us sleep on their couches when we came through town. As the management company for Sister Hazel, our philosophy was to take such good care of our current fans that they would rave to their friends about the connection they had and that would create gravity to bring new fans into the family. What we learned that first year at sea was that these people weren't fans but they had become friends and we were going on vacation with our friends. Over the next couple of years as we established The Rock Boat, we witnessed the friendships forming between these people who had so much in common and were traveling from all over the world to go on vacation together. We believed we had the opportunity to form and strengthen a community of people who loved music, travel and being in an environment with people who liked the same things they did. We applied the same philosophy that we did as managers. Our goal was to take such good care of our guests that they come back and bring their friends with them each year. We invited our guests to tell us all the things they loved and help us find opportunities to make it better and we listened. As we grew, we had to keep the fact that our guests were trusting us with their time at the center so we started measuring the number of Days on Vacation we were being trusted with. We only dreamed that we would get to celebrate 15 years and being trusted with 1,000,000 Days of Vacation by our guests. Thank you for helping to shape our company and define our culture. We always say that the only people that have seen us make as many mistakes are our parents and we are grateful for all the support you have given us since 2001.
-- Andy Levine